What Do You Mean I Need to Re-Invent Myself?
"I am 93 years old, and you want me to re-invent myself?"
Those are the exact words uttered to me and one of my former resident's children when the resident had been living in my community in Colorado for about a week. The resident had been living in the "real world" for 93 years and the time had come when they truly needed some assistance with their activities of daily living. Their daughter and son-in-law felt that they were no longer safe to live alone in their home. My new resident did not disagree with them that he needed some assistance but the idea of moving into a community, giving up his home of 45 years and moving in with a whole bunch of strangers was not his concept of a solution.
In fact, he made it known that a solution for him was either to stay at home with a 24/7 caregiver or die; the latter of which was unacceptable with his daughter and son-in-law. The financial ramifications of a 24/7 caregiver were out of the question and that left a senior living community as the number one option for him. Our community was the choice his family made based on the amenities, lifestyle opportunities and proximity to the daughter's home.
"This is a great place." He said, "It's just not for me. The place is filled with old people with whom I have nothing in common." His sentiments are shared by many of my present and former residents. More often than not, residents do not see themselves as "old" or unable to perform their activities of daily living. In their own minds, they have placed themselves at a point in time when they felt the most independent and most importantly, in control of their own lives.
The idea that someone else is now determining where they will live, what they can choose to eat, how to clean their apartment and what activities they can choose from is not palatable. If we are honest, the idea that someone else (especially our children) will have the power to dictate our lives in the future is not a pleasant thought.
However, the most successful residents in my communities, over these past 11 years, have been able to "re-invent" themselves by viewing the change in their circumstances in a whole new light. They understand that their independence is based on their ability to make sound decisions and not their ability to perform tasks. They maintain the control on their lives by choosing what help they require and welcoming that assistance. In this way, they "re-invent" themselves but are in total charge of their lives.
ABOUT THE AUTHOR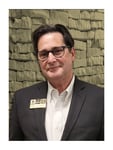 Michael Hurwitz is an Executive Director at Osprey Lodge, a charming and beautiful Florida Lodge with modern amenities similar to a cruise ship. With diverse experience in Retirement Living, Assisted Living and Memory Care, he has been successfully supporting ten communities in four states as the Regional Director of Sales & Marketing.